Frequently Asked Questions
Q. Can I use the front and back of a t-shirt?
Absolutely. Most people send me a mix of t-shirts - I use front, back, or both sides, depending on what you would prefer.
Q. Does it have to be t-shirts? Can I send sweatshirts, polos, sports jerseys, etc.?
I can incorporate almost any fabric into the quilt. I've created handkerchief quilts, tie quilts, I've even included HS letters and other non-conventional items in a quilt (see below).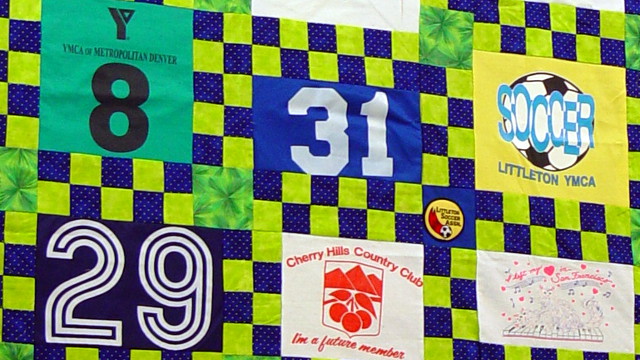 Q. How long does it take to make a quilt?
Every quilt is different, and the completion time will depend on a variety of factors. However, 6-8 weeks is the average time to completion once your quilt has been begun.
Q. Can I send the fabric I want you to use?
Certainly - if you have a particular fabric you want to use I'm happy to include it wherever you would like.
Q. Do you offer embroidery? What about fabric printing?
Yes. I can embroider letters, numbers, symbols, and patterns. I can also print photos and logos directly onto fabric (see below).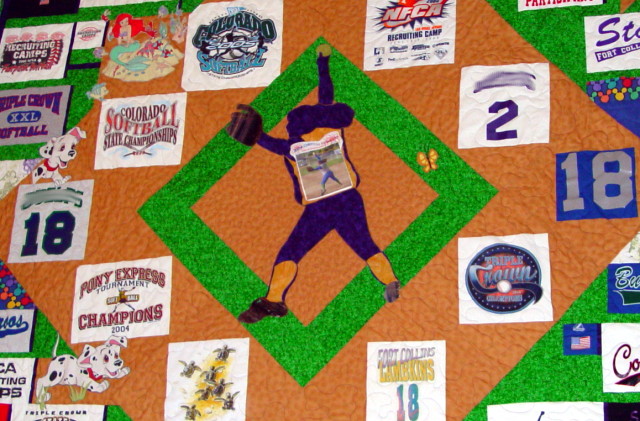 Q. Can I design the quilt myself?
Absolutely - I will make whatever you would like. Of course, I will also provide you with design ideas and suggestions if you would like them or if I think they might enhance your quilt. Ultimately, this quilt is yours and I will create whatever you would like.
Q. I started a quilt of my own but I'm not going to finish it, can you take it over for me?
Sure. Once you've contacted me I can tell you what it will take to finish it.
Q. I don't live in Denver, can we work this out over the phone or via email?
Everything we need can be shipped, and I'm happy to take photos, email, and call as necessary.
Q. Where are your quilts made?
Unlike some online custom quilters, all of my work is completed here in Denver and my quilts are definitely hand made.
Q. What forms of payment do you accept?
In addition to cash, I can accept payment via check, credit card, or paypal. If paying by check, please allow time for your funds to clear.
Q. When can we get started?
Maybe right away - please contact me so we can begin the process.